Crown & Bridge Dental Laboratory
in Westfield Indiana
Dental laboratory technology is both a science and an art. We at Distinctive Dental Arts are committed to providing our clients with high quality, consistent products, expert customer care, and value added services. We are committed to continuing our quest for excellence and are dedicated to the highest standards in the dental profession. Distinctive Dental Arts recognizes that all your patients are unique and we share your common goal of delivering superior care, through a full spectrum of specialized products and supported by the most advanced technology.
We Can Accept Most Intraoral Scan Files!

Products & Services
• IPS e.max & Empress
• Zirconia
• Custom Abutments (Zirconia & Titanium)
• All-in-one Implant Crowns
• Full Cast Crowns
• Porcelain Fused to Metal
• Temporaries
• Diagnostic Wax-Ups
• Treatment Planning
• Custom Shades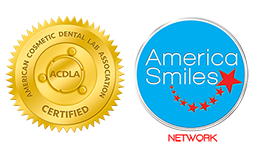 We're an AmericaSmiles Network Member Lab.
Our Restorations are Fully ACDLA Certified
FDA Compliant and Warranted.